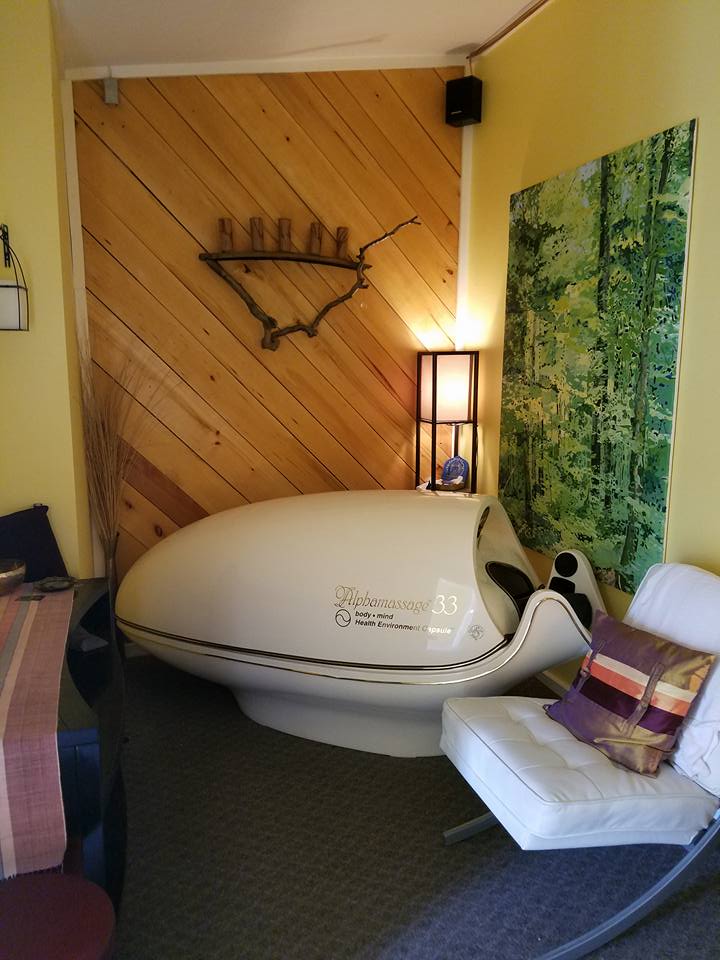 The Alpha Massage Pod utilizes spa technology while you lay encapsulated on a table. You become massaged by the table and various air streams are released at different temperatures across your body to include therapeutic essential oils (at the discretion of the user) to either relax or intensify the experience.
Description:
The alpha massage pod system uses a dry heat sauna encapsulating the body with your head resting outside on a soft pillow. Treatments can include cranial massage, face marma, or a heated pack over your eyes. Enjoy the soothing vibrations to your preferred comfort level, heat as you desire, and a subtle mood enhancing essential oils based upon treatment chosen.
The Four Modalities: Relaxation, Detoxification, Rejuvenation, and Weight Loss
Treatment Length/Cost: 30 minutes - $40
Preparation: We like to ask that you please remove all items from pockets, take off any jewelry, and remove your footwear. If you would prefer to lie on the mat with your clothes off please keep your undergarments on. Remember that you may perspire on clothing based on preferred modality and system settings. If you would like to wear loose-fitting clothing or a yoga-type outfit that is acceptable.
Couple's Alpha Massage Pod Package: If you want to get a couple's massage package it would proceed in a similar sequence. One person will receive a thirty minute table massage while the other immerses them self into the alpha massage pod. After which both people swap places and receive the same treatments. Please keep in mind that, during your treatment, the clothing adorned is based on comfort level and utilized as necessary.
If you are in a hurry this is just the thing to get in and out in 30 minutes! Lay back and enjoy this sensational feeling! You can also receive a scalp and face massage during your session!